Programmable fully automatic glue dispenser fluid adhesive dispenser robot PY-33
Fluid adhesive dispenser robot save costs in material waste, rejects, time and labor. Desktop dispensing robot offer reliable operation with excellent repeat ability for precise application of adhesives, liquid gaskets, resins and UV materials in many

Products Details

Programmable fully automatic glue dispenser fluid adhesive dispenser robot PY-330R

Specifications
Fluid adhesive dispenser robot
1 Easy operation
2 Excellent performance
3 Reasonable price
4 CE certification
Fluid adhesive dispenser robot
Introduction
Fluid adhesive dispenser robot save costs in material waste, rejects, time and labor. Desktop dispensing robot
offer reliable operation with excellent repeat ability for precise application of adhesives, liquid gaskets, resins
and UV materials in many assembly and manufacturing processes.
Main application
Mobile Phone , Compture housings , Optical drives , Printers , ink clips , PCB , LCD , LED , DVD , Digital
Cameras , Switchs , Connectors , Relays , radiator, semiconductors and other electronics, or SMT devices
to connect quickly points / glue, clocks,toys, medical equipment and other required liquid dispensing products .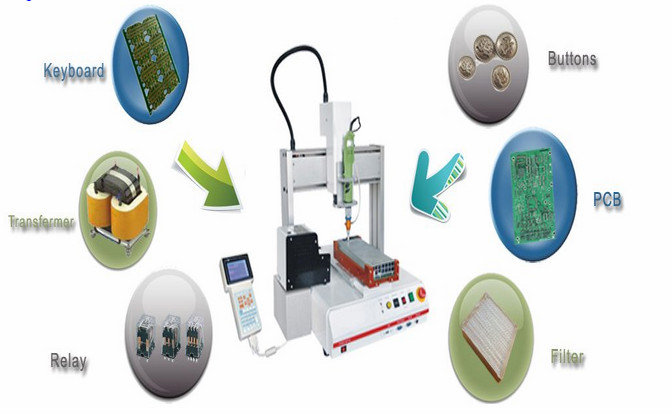 Common Application Range:
1.Semiconductor packaging
2.Fixing and protection of PCB electronic components
3.Packaging adhesion of LCD glass panel
4.Coating of panel of the mobile phone or dispensing of the key
5.Speaker dispensing
6.Dispensing seal of battery boxes
7.Coating of parts of vehicles and machines
8.Coating adhesion of hardware parts
9.Coating of rationed gas,liquid filling
10.Chip bonding
Performance Feature
1. English handhold control box, easy use.
2. Dispense points, lines, surface, circles, arc, irregular curves, three axis controllable.
3. The software has array, horizontal move and rotate operation function.
4. Can set the glue amount, speed and time etc. Stable glue flow and no leaking.
5. Four barrels work at the same time to improve efficiency.
Please click the picture to learn more about our glue dispenser
Main Technical Parameters
Model

PY-220D

PY-330D

PY-440D

PY-550D

Work area (X*Y*Z)

200*200*50mm

300*300*100mm

400*400*100mm

500*500*100mm

Max. speed

500mm/sec

Resolution

0.02mm

Repeatability

±0.02mm

Operation interface

LCD touch panel/Handhold control box

Drive mode

Micro stepping motor/belt

Power

AC220V 50-60HZ 0.8KW

Size

380*370*500mm

480*500*600mm

580*600*600mm

640*700*720mm

Net weight

About 20KG

About 30KG

40KG

50KG

Operation environment

Humidity:20%-90% RH, Temperature:0

°c

-40

°c
If you have any interest in glue dispenser, please feel free to contact Tiffany via e-mail or skype tiffany09178.